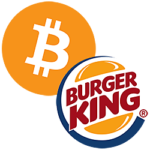 If you're looking for evidence that pretty much everyone is jumping onto the cryptocurrency bandwagon, look no further—Burger Kings in Russia are now offering customers promotional "Whoppercoins" with the purchase of every Whopper. Yes, really.
The Whoppercoin tokens were reportedly issued using the Waves Platform, and the value of each token isn't yet clear—though speculation indicates that Whoppercoins will eventually be redeemable at Burger King restaurants for food.
Russian Burger Kings are also slated to start accepting Bitcoin as a payment method this year.